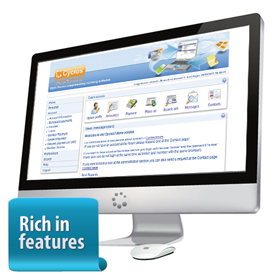 CrowdBucks is intended to help bring about meaningful change to our broken monetary and financial systems. 
From helping communities to develop and integrate flexible "complementary currencies" that stimulate local growth, to providing a framework for
Crowdfunding
, micro-lending, and a global marketplace that offers a smarter way to do business, CrowdBucks will provide a central hub to help bring about positive change to our local economies and global economic systems.
Cyclos is a project of STRO, a leading organisation on monetary innovations. Cyclos offers a complete on-line payment system with additional modules such as e-commerce and communication tools. The Cyclos platform permits institutions such as local banks and MFI`s to offer banking services that can stimulate local trade and development. Cyclos is also used by many organizations and communities to provide community currency services. With the latest version it is possible to roll out mobile banking services such as SMS banking and apps for smartphones. Cyclos is currently available in ten languages and new languages are added with each release. For more information, visit
www.cyclos.org
.
STRO's objective is to provide payment software that is easy to use and maintain, flexible, secure, and highly customizable. The Cyclos structure is entirely dynamic. Organizations that want a standard system can use the default database that comes with basic configurations and can be easily enhanced. Cyclos contains many features that are useful to stimulate economic development and job creation. It is possible to 'build' a monetary system from scratch or to extend existing software providing additional features.
Switch to:
England
|
Spain